Enjoy an international atmosphere in our beautiful Kauri farmhouse featuring charming rooms of polished wood and country furnishings. Lyndsey and Stefano welcome you to Kahoe Farms – one of New Zealand's leading farm hostels and backpackers.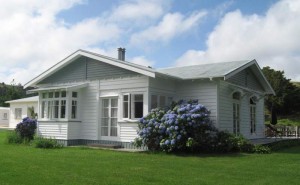 The hostel is situated on our fifth-generation Northland family farm, the summit of which has spectacular views of Whangaroa Harbour and Doubtless Bay.
We have twin and double rooms, a spacious dorm, kitchen/laundry facilities and WiFi. Try our famous pizza, pasta and Italian coffee.
The hostel is an ideal base for all travellers to explore the Far North, with the Bay of Islands, Doubtless Bay and Cape Reinga all within easy reach.
InterCity bus will stop at the hostel for drop offs and pick ups.